Pool Covers
Automatic
Sun Systems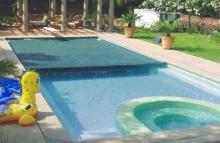 When your Poolsaver UnderTrack System is installed you will be delighted with the safety, comfort and convenience, Your new pool will become the complete source of pleasure you've always dreamed of. And best of all - the savings from your Poolsaver Cover will keep adding up month after month, year after year.
A Poolsaver can be designed right into your pool. Plan ahead. Before building your new pool call your Poolsaver representative. We can help integrate a custom-made cover without compromising on your pool design.
Enjoy easy operation of your Poolsaver Cover System. Just turn the key and your cover opens or closes. Your Poolsaver will be nearly invisible so that your pool setting can be nothing less than a masterpiece.
Choose from a variety of designer colors to match your backyard decor. The Poolsaver UnderTrack System is the answer to comfort, safety, savings and convenience in pool care. Save money on chemicals, heat and water.
Procopi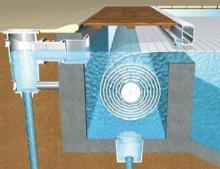 The Stardeck cover, a submerged cover from the DELTA range, blends the perfect protection of your pool with absolute discretion: the roller mechanism is entirely concealed in a special housing integrated into the coping. The cover appears and disappears as if by magic. Astounding effect and aesthetic perfection guaranteed.